Gschpusi Original PET
The Event Shot
Event with a glass ban? No Problem! For such events we have developed our 100% glass free Gschpusi bottle! Fans like the Electric Love Festival, the Donauinselfest (Danube Island Festival), and the 4 Schanzen-Tournee (Four Hills Tournament ski jumping) already appreciate this solution.
The name Gschpusi is a lovely and fun Austrian expression for a come together. No matter if you are single, in a relationship or married, Gschpusi is a shot of romance – Gschpusi gives every occasion a certain flirt factor!
Why not mixing it? Try our mix suggestions.
And do not forget – there is a kiss for each Gschpusi!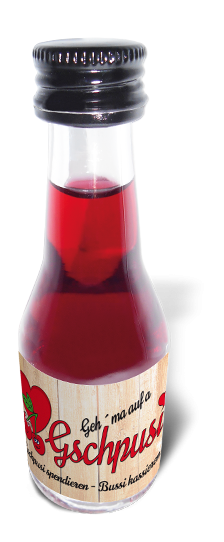 Kirsch-Cranberry-Mandel Likör
20% Vol. Alk.
VE 25 Stk. 0,03l Glasfreie Eventflasche